Your Support to Tangtungan Indonesia will help us a lot on our mission to preserve and promote Traditional Pencak Silat. Please visit this link below to support us :
https://sociabuzz.com/tangtungan/support
Writer : GJ Nawi
Translator : Atmanadi Pratama
Records are the most important element in history tracing. Unfortunately, very few records are left related to pencak silat or Nusantara martial arts, especially with Betawi Style Pencak Silat.
As we all know, a culture is born and grows because there are supporters of it. As one of the elements of Betawi culture, Silat Betawi -or in local term is generally called Maen Pukulan- is thought to have been born simultaneously with the formation of the Betawi ethnicity as its parent culture, which was around the middle of the 19th century.
Various Nusantaran ethnic groups in Betawi began to melt and lose their original characteristics and identities, resulted in the emergence of a new ethnic group, known as the Batavian People (Betawi or Jakarta Asli/Native Jakarta). This is supported by the discovery of historical data that mention Silat Betawi in the local term Maen Pukulan or in short Pukulan, Silat and Pencak Betawie in the late 19th to the early 20th century.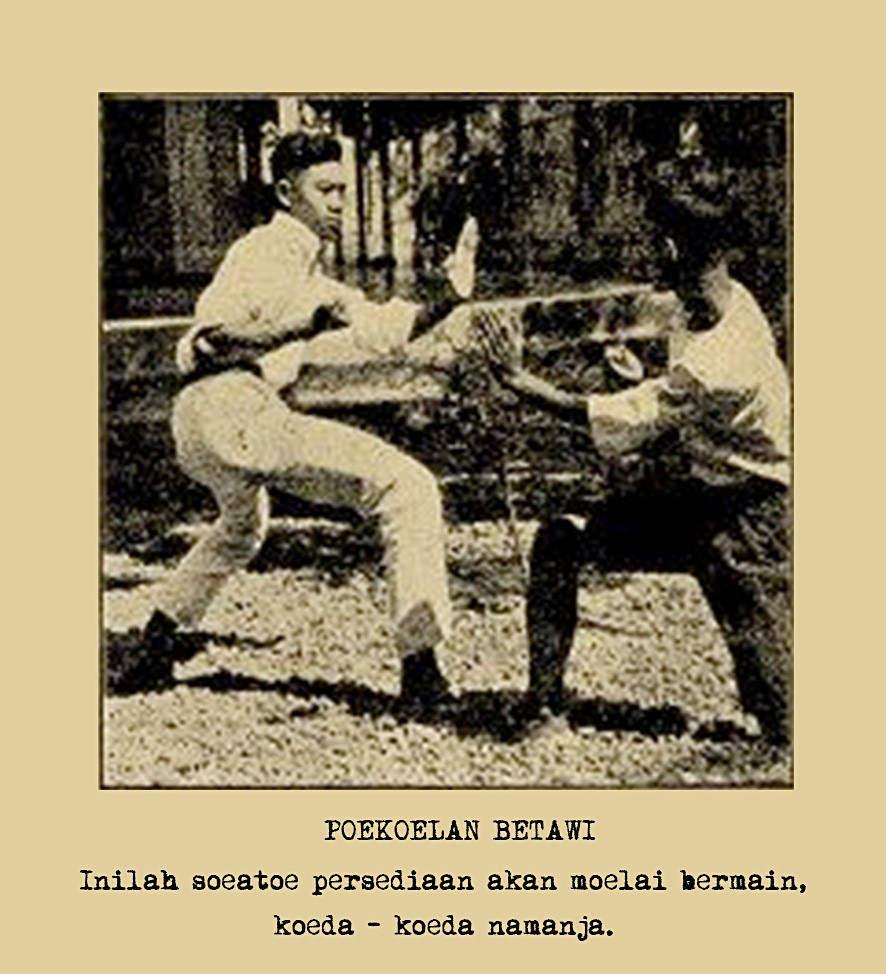 The oldest historical data that inform us of the existence of Silat Betawi were found in:
Dutch-language daily newspaper Soerabaiasch Handelsblad, Monday 17 April 1882.
An article on the second page of the special section reporting on events in the Nederlandsch Indie (Dutch East Indies), recounted a feud between a horse keeper who came from Betawi and his Dutch master. The Betawinese didn't like being treated harshly and challenged his master to try Pukulan with him.

Dutch-language daily newspaper Bataviaasch Nieuwsblad, Tuesday 19 April 1892.
In an article in the Voorheen en Thans (Then and Now) section on the second page, it is reported a sequel to the murder of a Betawi native named Mawi that took place at his house at Gang Kernollong, Kwitang on Sunday night (17 April 1892). His friend named Saridin got offended (sakit ati) while training Main Poekoelan and ended up killed him.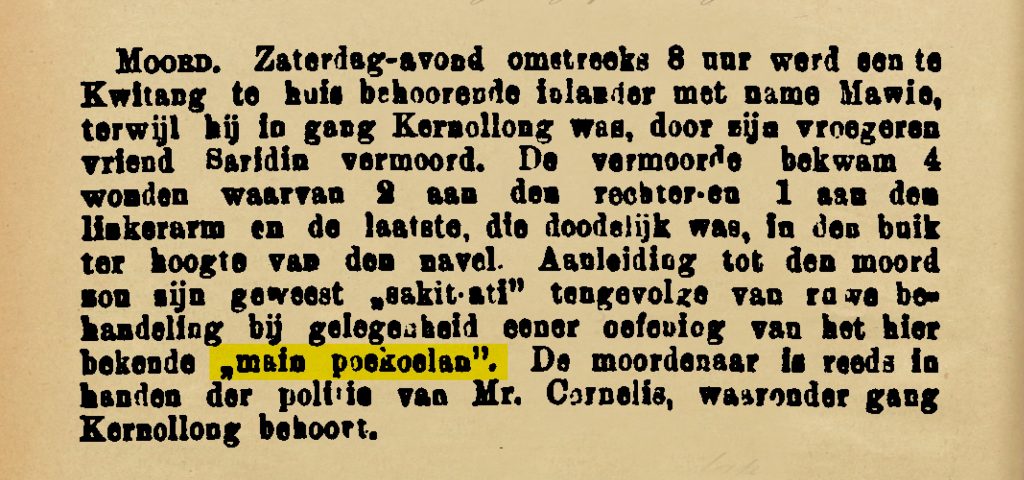 Dutch-language daily newspaper Het Vaderland Staat en Letterkundig Nieuwsblad, Friday 19 December 1924.
An article on regional news reported about performances at a bazaar of several traditional arts in Wonosobo, one of which is Pentjak Betawie art exhibited by two Betawinese named Soejoedi and Abdelmadjid.
Historical data (oral) were obtained through interviews with several sources, where the timeline of the emergence of their silat style was around the end of the 18th century to the early 20th century. There are two variations of stories that refer to the two cultures of martial art that influence the birth and development of Silat Betawi or Maen Pukulan, Pencak Sunda (Sundanese Pencak Silat) and Chinese Kuntao (拳道).
Silat Betawi which heavily influenced by martial arts from Sunda region have trait and similarity on the origin story of their martial art with Pencak Cimande, one of the mainstream school of West Javan pencak silat. The story itself is about a woman who got her martial knowledge by watching a fight between a tiger and a monkey while washing rice by the river bank.
Meanwhile Silat Betawi influenced by Chinese martial arts have a more varied stories. Generally the similarity is in the story of the transfer of martial knowledge from a Chinese Master to a local Pendekar, which is usually preceded by a duel.