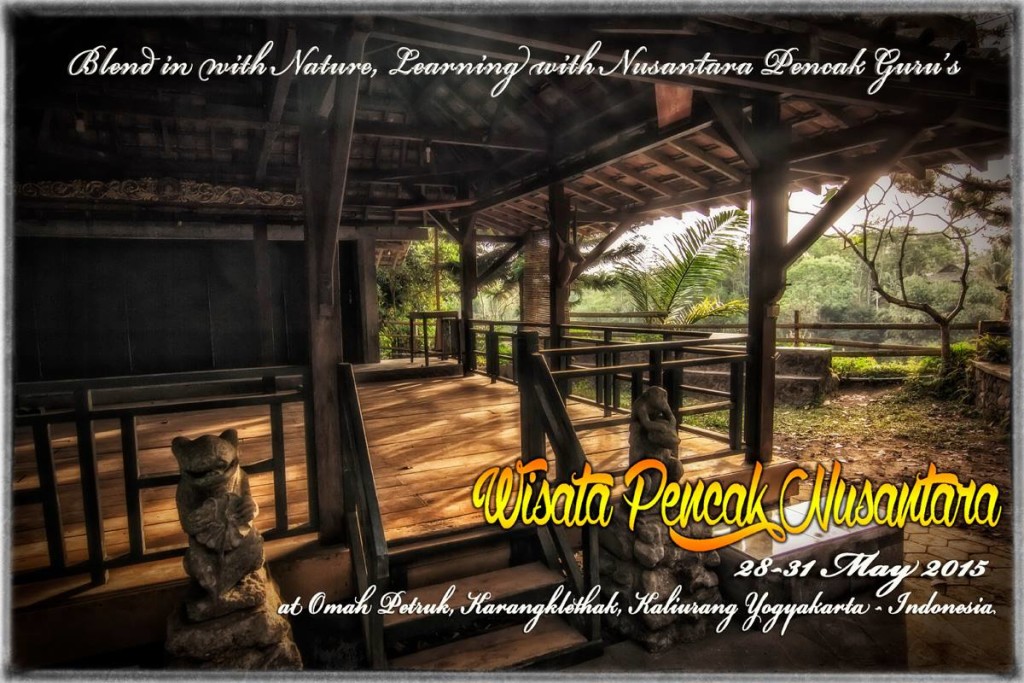 "As a gesture of support I offer you a piece of my mind, and wish that in the 5th year there will be Jambore Pencak Silat Nusantara in Yogyakarta," said Sri Sultan Hamengkubuwono X when he greeted the organizers of PMF a few years back. Yosi Pudiono and friends from Tangtungan and PAS (Paseduluran Angkringan Silat) has already thought of the exact same thing. So now that vision can be realized sooner, which is on the 4th year on PMF 2015.
The meaning of the word JAMBORE can be seen from multiple sources, Jambo means greetings in Swahili language and in the Aborigin language Jambo also means noise, or GATHERING AT NIGHT TIME. Etimologically we can use this understanding to derive the word Jambore which since the beginning of PMF is the one of main plan. Even it means gathering, meeting, together, where a group of young people feel enthusiastic with a series of events, experience, and entertainment in one place, Jambore commonly refers to a boyscout activity or CAMP. Of course camping together with over 6000 Silat practitioners, is somewhat difficult. Tangtungan and PAS started working on these wild ideas. Packaged as Dinas Pariwisata's requests made PMF an annual Cultural Tourism Event. Then came the idea of Jambore Pencak Silat/PMF 4-2014 with one of it's main events Wisata Pencak Nusantara which will be held on 28-31 May 2015.
Following the etymology of the word jambore, Wisata Pencak Nusantara 2015 is an event for silat practitioners to gather in a single place to become one with nature and learn toghether about pencak silat Nusantara from several chosen Guru (Instructor). The Guru lineup for this year will be Kang Awang from Silat Padjajaran Sunda Gerak Gulung Budidaya, Mas Noeryanto an expert in NLP (Neuro-Linguistic Programming) and also a Guru in Bayu Suci (a mix between Makassar and East Java Silat) and Mas Atok Sugiharto from Krisna Murti Mataram Tejokusuman Yogyakarta. As this is a tourism event there will also be cultural performances such as Jemparingan (Traditional Archery) gaya Mataram and Gamelan, also a cross country hike in the lush environment of Mt. Merapi. A journey of silat, and spiritual that is both beautiful and relaxing at Omah Petruk Villa which will be continued to gathering with thousands of silat practitioners from the whole world in PMF 4-2015 will be a truly unforgettable experience.
To Be Held On:
28-31 Mei 2015
Omah Petruk Villa, Karang Klathak Yogyakarta Indonesia
Terletak di kaki Gunung Merapi  ditengah hamparan sawah menghijau, Omah Petruk begitu indah serta sangat tepat menjadi tempat menyatu dengan alam. Meskipun demikian, tempat ini hanya 15 menit dari kota Yogyakarta yang merupakan kota budaya yang tersohor.
May 28th – 31st 2015
Location : Omah Petruk Villa, Karang Klathak Yogyakarta Indonesia
Located on the base of Mt. Merapi with fresh air and beautiful view, Omah Petruk is the right place to blending with nature, enjoy the food, and relaxation. It's the perfect place and event to know and be a family of Silat Nusantara and to recharge your mind and body. Especially when silat classes held in the open-air outdoor and blending with nature of Merapi Mountain.
PRICE
$400 Nett
OUR RETREAT INCLUDES:
– Daily silat and cultural excursion classes.
– 3 nights' accommodation at Omah Petruk Karang Klethak Kaliurang Yogyakarta
– Breakfast, Lunch and Dinner with special traditional food from Nusantara
– Jelajah Alam
– To be part of  Pencak Malioboro Festival 2015 together with 6000 Pesilat in Malioboro, Yogyakarta Indonesia
– Airport transfer to and from the resort also included (if arriving on the day of the retreat and leaving on the last day of the retreat)
Contact :         pmf@tangtungan.com or visit www.tangtungan.com for more details!